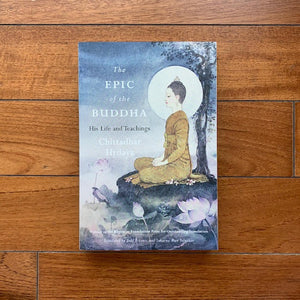 The Epic of the Buddha: Chittadhar Hrdaya
A translation of the modern Nepalese classic

Winner of the Toshihide Numata Book Award in Buddhism and the Khyentse Foundation Prize for Outstanding Translation

This award-winning book contains the English translation of Sugata Saurabha ("The Sweet Fragrance of the Buddha"), an epic poem on the life and teachings of the Buddha. Chittadhar Hṛdaya, a master poet from Nepal, wrote this tour de force while imprisoned for subversion in the 1940s and smuggled it out over time on scraps of paper. His consummate skill and poetic artistry are evident throughout as he tells the Buddha's story in dramatic terms, drawing on images from the natural world to heighten the description of emotionally charged events. It is peopled with very human characters who experience a wide range of emotions, from erotic love to anger, jealousy, heroism, compassion, and goodwill. By showing how the central events of the Buddha's life are experienced by Siddhartha, as well as by his family members and various disciples, the poem communicates a fuller sense of the humanity of everyone involved and the depth and power of the Buddha's loving-kindness.

For this new edition of the English translation, the translators improved the beauty and flow of most every line. The translation is also supplemented with a series of short essays by Todd Lewis, one of the translators, that articulates how Hṛdaya incorporated his own Newar cultural traditions in order to connect his readership with the immediacy and relevancy of the Buddha's life and at the same time express his views on political issues, ethical principles, literary life, gender discrimination, economic policy, and social reform.