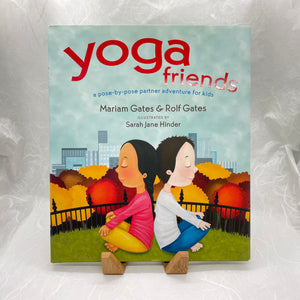 Yoga Friends: Mariam Gates
Time to Buddy Up for Movement, Cooperation, and Imaginative Play

A sailboat skimming across the waves,
A feathery owl,
A tree stretching from earth to sky.
Together, what do we want to become today?

From the creators of Good Night Yoga and Good Morning Yoga comes a beautifully illustrated city adventure that introduces children to the delights and benefits of partner yoga.

Perfect for teaming up with a friend, sibling, parent, or caregiver, each easy practice shows how cooperation helps us to imagine, move, and have fun in a whole new way.

Includes a back-page guide for parents and caregivers, showing how to do each pose and how to connect them into an easy-to-follow flow.