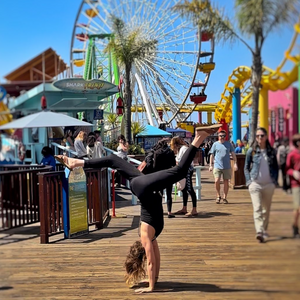 RAFFLE TICKET: 1-hour Private Yoga Session focused on Handstands; with Leslie Germain
The purchase of a $10 raffle ticket enters you to win a 1-hour Private Yoga Session focused on Handstands; with Leslie Germain. $150 value
Raffle tickets are 1 for $10, 5 for $50, or 12 for $100. Discount shows online when 12 tickets are added to cart.
Leslie Germain is a yogi, scientist, mother, and ocean aficionado. After beginning her doctoral studies more than a decade ago, she became overwhelmed with the expectations of graduate school. Consumed with school and research, she had no time for herself…and ended up tired, stressed, and unhappy. She made the decision that she would prioritize her happiness and health, and thus began her yoga practice.
Visit Leslie Germain to view her profile.