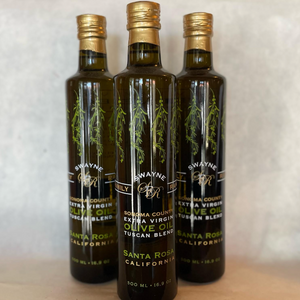 RAFFLE TICKET: 6 Bottles of Swayne Family Ranch Olive Oil
The purchase of a $10 raffle ticket enters you to win 6 Bottles of Swayne Family Ranch Olive Oil;  Award Winning Tuscan Olive Oil Blend from Santa Rosa $150 value
Raffle tickets are 1 for $10, 5 for $50, or 12 for $100

.

 Discount shows online when 12 tickets are added to cart.
The orchard has 500 trees on 3 acres. The Tuscan (Italian) varietals are : Leccino, Frantoio, Maurino, Pendolino, Moraiolo, and Taggiasca. These varietals make up 87% of the olive oil. The other varietals that make up the remaining 13% are Picqual (Spain) and Picholine (Morrocco).
"We also have 27 Italian Ascolano and Cerignola trees, as well as 6 Kalaman (Greece) for preparing as  cured table olives (or if not harvested soon enough they go into the oil.) Pete cures the olives with garlic and serrano peppers- yum with a kick!
Our orchard is meticulously cared for by Pete and the excellent staff at Dirt Farmer, Inc. We care for the orchard under the same principles we use in the vineyard. We have been  awarded Certified Sustainable by the  Winegrowing Alliance and the Wine Institute of California since 2015. We use the minimum amount of spray to prevent the pesky olive fly. All sprays used are certified organic.
Our oil was certified Extra Virgin by the California Olive Oil Council in March, 2018.  The process to getting certified is twofold: first, chemical analysis of the oil in a certified laboratory provides valuable information about the current condition of the oil.  These tests reveal the degree of oxidation and release of fatty acids because of poor quality fruit or handling."