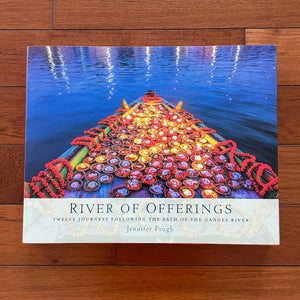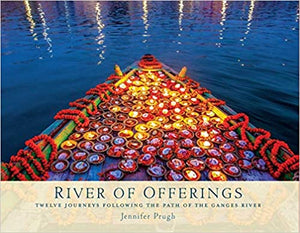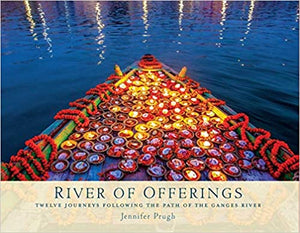 River of Offerings: Jennifer Prugh
How does a deeper understanding of the ancient spiritual traditions of India shed new light on our contemporary yoga practice? And what can India's River Ganges teach us about how to live in a meaningful way? Through photography and personal narrative, Jennifer Prugh documents a series of pilgrimages over the last ten years to spiritually significant locations along India's Ganges River. 
The Ganges is India's most sacred river, winding some 1550 miles from its source, high in the western Himalayas, traveling eastward across the subcontinent to empty out at Sagar Island near Kolkata. The river is also known among Hindus as Mother Ganga, the Goddess. She dissolves sins, drinking her waters cures those who are sick, and dying on her banks ensures freedom from the cycle of life and death. She is a perpetual offering to all who inhabit the Ganges River Valley.
What began for the author as simply a trip to India in 2007 to deepen her understanding of her yoga practice became a passionate pursuit to broaden her understanding of the ancient spiritual culture of India, from which modern yoga practice evolved and changed her life. By plane, train, automobile, rickshaw, and on foot, she traveled with camera in tow to many of India's sacred destinations along the Ganges, from high in the Himalayas at the river's source at Gangotri, to the great Kumbha Mela festival held in Allahabad, to the cremation ghats in Varanasi. 
Prugh explores the stories from the heroic epics that provide the backbone for contemporary yoga philosophy, as well as the sacred wisdom that animates India's spiritual legacy. Part history, part mythology, and part travel narrative, this is a visual and written account of the trials, tribulations, and personal discoveries of an American female yoga practitioner. 
River of Offerings
 serves to broaden our understanding of how to live our lives meaningfully, with passion and purpose.
A visually compelling and beautiful journey from cover to cover, this book will be a cherished source of inspiration for years to come.