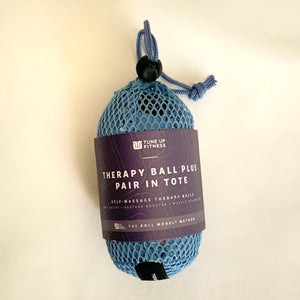 Yoga Tune Up: Therapy Ball PLUS
Slightly larger than the original Yoga Tune Up Therapy Balls, the Therapy Ball PLUS pair of self-massage balls measure about 2 3/4" in diameter and were developed by popular demand. They cover more surface area and add height to obtain a greater depth of pressure. Use them in their custom designed snug-grip mesh tote for spine rolls (top of the neck, down to the sacrum), as well as IT band, and thigh rolls, and so much more! 
Made from a special rubber that allows you to work out adhesions and tension, ultimately offering an exceptional deep tissue massage experience. The self-massage balls offer great strength and grip to help you penetrate through layers of skin and muscle and target difficult-to-reach areas. Enhance your existing self-care routine, relieve yourself of physical discomfort, and begin to live more comfortably in your body with a set of Therapy Ball Plus self-massage balls from Tune Up Fitness.